Saturday, January 31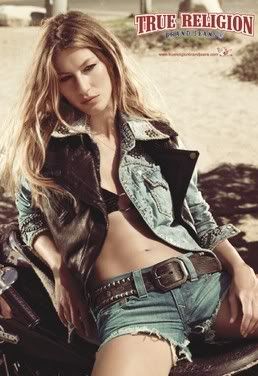 Finally True Religion got a clue. I normally hate all their ads.
But for Spring 2009 they got Gisele Bundchen to be their campaign model. The ads are great...and well it's Gisele so you already know.

Jump for more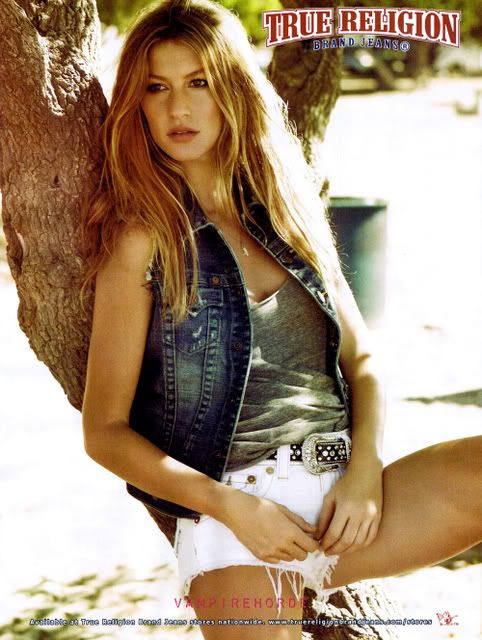 Friday, January 30
A Tribe Called Quest Air Jordan I strap available at Proper now


Posted by

DeadStock Ric' - Brooklyn Prodigy
1 comments


Keyshia Cole
is back with her 2nd video
You Complete Me
off her new album
A Different Me
. I haven't really listened to the album fully but from what I've heard it's a pretty
hot
album. This video's
nice
and
traditional
. The black hair really fits Keyshia although she can pull off any color. But I wish she would have released
Oh-Oh Yea-Yea feat. Nas,
but since she did not I am hoping it will be her 3rd single.
Oh-Oh, Yeah - Yea feat. Nas - Keyshia Cole
Posted by

Loniii Ann
0 comments



3somes! Wooh--hoo! CK Jeans just released this extremely sexy commercial & it's been banned from t.v. The ad is def too much for a commercial, but I love it. It was shot by Steven Meisel.


*thanks nitrolicious

Posted by

ELLE
0 comments



Remember the Alexander McQueen collection for Target? of course you do, it's greatness. Well we told yal it drops in March but there will be a 2 day preview this Valentine's Day!
It's in the mecca of course, Manhattan, at 330 West Street. The place will be a mad house. Oui vey.


Posted by

ELLE
2 comments



Aol listed the top 10 low calorie snacks. All under 175 calories. Domo & I been trying to make healthier choices when it comes to food. She's been doing pretty good. Me..eh. I'm gettin' there.

1) Banana (I eat one every morning)
2) Animal Crackers (yummy surprise)
3) Half of a whole grain bagel (spread with jam or low-fat cream cheese)
4) Almonds (I suppose it doesn't count in my hershey's bar?)
5) Baby carrots (eat a handful with a creamy dip. Ranch & carrots = yum)
6) Whole wheat pretzels (I love Rold Gold honey wheat braided twists, eating some now actually)
7) Sweet potato (they said baked and cooled, it's a delicious alternative to fruit)
8) A cup of instant bean soup (sounds gross, but it's fiber filled)
9) Whole grain cereal (Low-fat, low-sugar choices..sucks I'm obsessed w/ Frosted Flakes)
10) Low-fat string cheese (I love cheese!)

Posted by

ELLE
0 comments



Seriously I have been hearing about this movie everywhere I turn. In class, on t.v, in writing, on the net.
Slumdog Millionaire has already won at the Golden Globes & SAG Awards and now they are up for 10 Oscar nominations! I am going to see it asap & I will be back with what I believe will be an inspiring story. I love the Indian culture, I think they are really beautiful people with great spirits. I am looking forward to watching this film and you all should too.
Here is the trailer & you can check the Amanda Diva show where she discussed it.
The plot is: A Mumbai teen who grew up in the slums, becomes a contestant on the Indian version of "Who Wants To Be A Millionaire?" He is arrested under suspicion of cheating, and while being interrogated, events from his life history are shown which explain why he knows the answers



Posted by

ELLE
5 comments


Posted by

Loniii Ann
3 comments



Sophia, also from Sweden, is the shit. I like this track.
but Jump for her video to her single I Rony, it's my favorite.
I love finding good music.
And Sophia Somajo is a bad bitch.


Can You Dig This - Sophia Somajo