I don't know how or why I'm just seeing this flyer. But the Beats & Brands event is tonight at 8pm. RSVP quick! I'd love to enter that raffle if it wasn't too cold for me to move.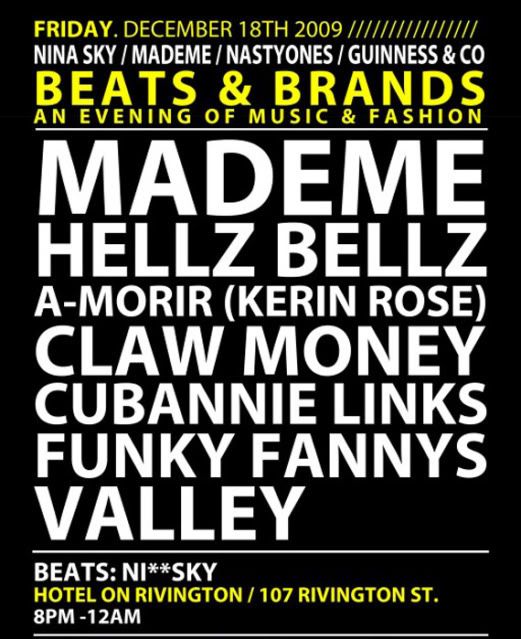 "MADEME x NINASKY x NASTYONES x GUINNESS PRESENTS: BEATS AND BRANDS

HOTEL ON RIVINGTON (107 RIVINGTON STREET)

BRANDS INCLUDE MADEME, CLAW MONEY, HELLZ BELLZ, A-MORIR BY KERIN ROSE, CUBANNIE LINKS, FUNKYFANNYS, & VALLEY NYC.

BEATS BY NI**SKY.

ALSO A CHANCE TO WIN 1 BIG-ASS GIFT BAG (W/ 1 AMAZING GIFT FROM EACH BRAND).
RAFFLE TICKET $5.00.

GUINNESS OPEN BAR FROM 8-9.
RSVP: EVENTS@NASTYONESNYC.COM"