I loved this years Academy Awards Red-Carpet. I think majority of the stars brought out their A-game. The dresses were beautiful, light colors were the trend (a lot of ivory), there were a couple mermaid style dresses, the hair was pulled back and the jewelry was something to talk about. I have much more good than bad to say. It was extremely hard to pick my best dressed. I loved so many.
But I think I'm going to give it to Taraji P. Hensen. She looked beautiful in this Roberto Cavalli dress. It fit her nicely, the color was perfect. And that necklace! Fred Leighton, loved it. Her hair and make up were all beautiful. I'm very proud of her success, she was nominated for Actress in a Supporting Role, her 1st at the Academy nomination. She was definitely glowing.
Jump for all the other beauties, not so beauties, and some cuties too.





Anne Hathway wore this stunning Armani Prive dress. The sequence going asymmetrically down the gown, with the crystal-effect sequence lining at the bust, the ivory color on her pale skin tone, the simple diamond jewelry, it was very classy and chic. She teared up during her nomination introduction and it seemed very genuine, I loved it.



Natalie Portman in Rodarte. One of the few to wear a bright color, she looks beautiful in this. I love Rodarte. This dress is really something, I love the bandage with the soft chiffon, and the pink is beautiful.



Frieda Pinto has amazing style. Everywhere I've been seeing her she's been looking amazing. Here she is in John Galliano and the dress fits her perfectly. The color looks great on her, I love the one sleeve on her, and the beading is definitely influenced by her Indian culture. Congratulations on the success!



Dev Patel in Burberry. Yum, I love it. The skinny suit, the petite bow, the watch, he was on Cloud 9. Congrats to him!



I loved Halle Berry's dress. Marchesa is a red-carpet genius. I adore her dresses. This one looks amazing on Halle. She presented the Oscar for Actress in a Leading Role.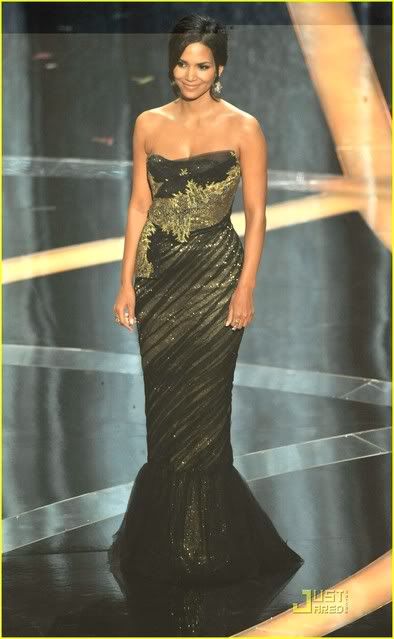 Miley Cyrus surprised me at the Oscars. I absolutely love this Zuhair Murad dress. The beading is phenominal, I love the pedals, the attention at the waist, the crooked v-neckline, and there was a small circle cut-out in the back. What a princess dress. I did think it was too heavy for her, but I love it a lot.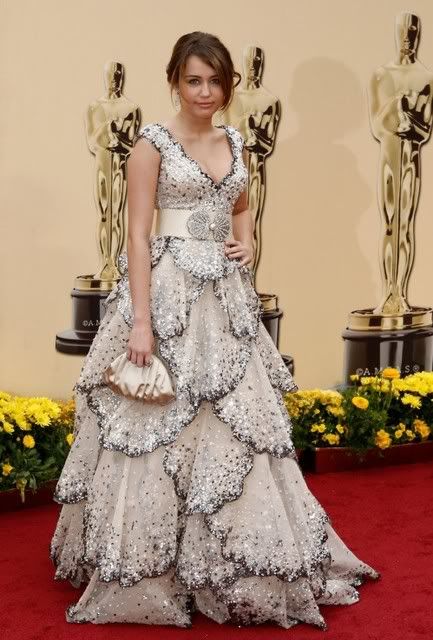 Vanessa Hudgens in Marchesa. Love, love, love it. Vanessa is a hot tamale. I love this dress on her. She looks fucking fantastic. The flowers on heart-shape top, the mermaid effect down low, the drop earrings went perfectly, her hair was sweet, and her make-up added to her sexiness, it all just fit well. She did real good. It was young, fresh, fun, and classy. Get it girl!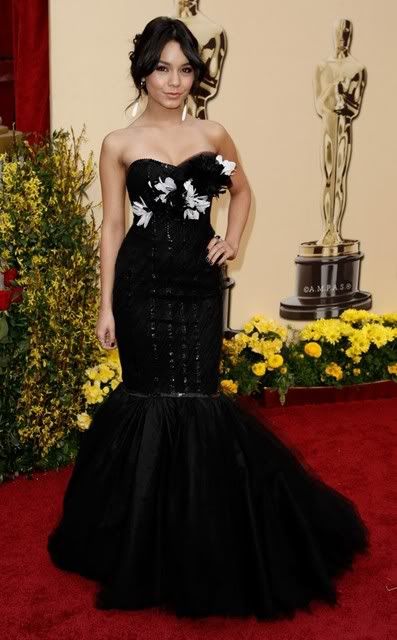 Zack Efron looked smooth. Dolce & Gabbana of course. I did not like his hair but I loved that tux. And that train on Vanessa is nice, boy.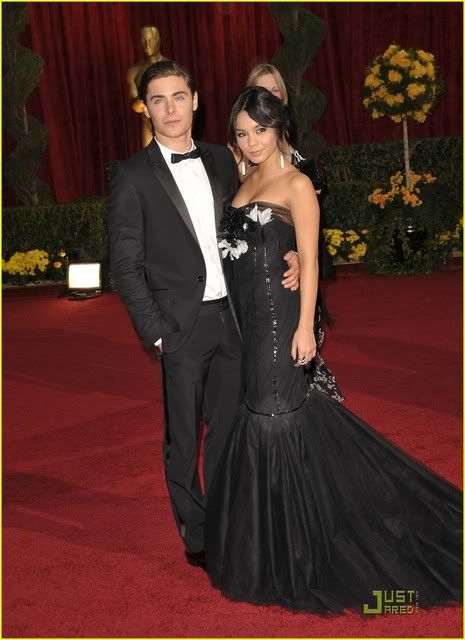 Sarah Jessica Parker can do no wrong. She choice a very SJP dress by Dior Haute Couture. She called it a barely mint color, and that color is hot for the next couple of Springs. Her boobs were in overload for me, but this dress looks so nice on her. She is surely the shit when it comes to fashion.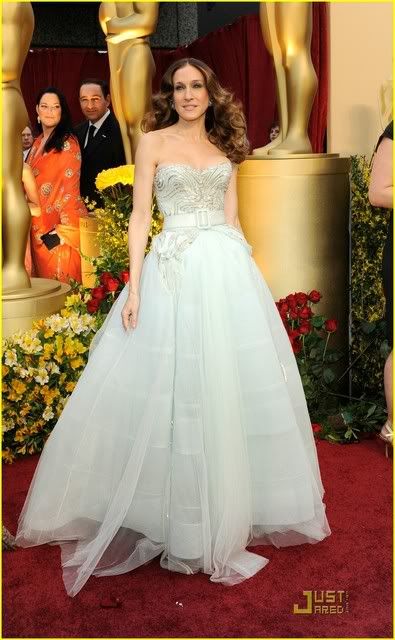 I love Marisa Tomei. This Atelier Versace dress is amazing. The pleats all over, following that origami influenced trend, the light color, it all looked really nice on her. I know she's short, but I think it heightened her, and I know she gets a lot of slack for her fashion choices, but she's one of the baddest, so I love her. I must see the Wrestler, for many reasons, one being her.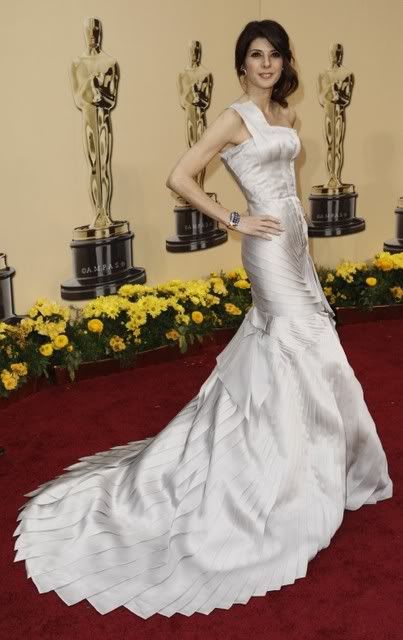 Penelope Cruz in Vintage Balmain. Is she beautiful or what? I love this dress because it's vintage, it's sweet, the poof wasn't too much, the detail is perfect, and she won that night, and just glowed in it. She looked like a Hispanic Princess.



Marion Cotillard wore Dior Haute Couture. I like this dress, I just hated her hair, and overall I wasn't crazy about it.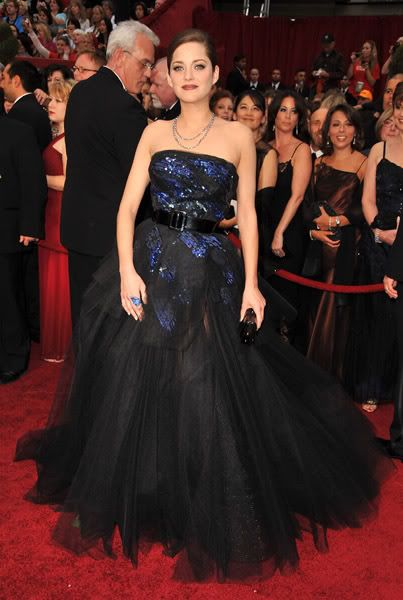 I loved Melissa George in Dolce & Gabbana. I love this dress, and I think she looked good.



Nicoel Kidman choice a beautiful L'Wren Scott. I always love her. Hair, eh. I think those feathers sticking out the bottom of that dress should have been removed, and it would of been much better.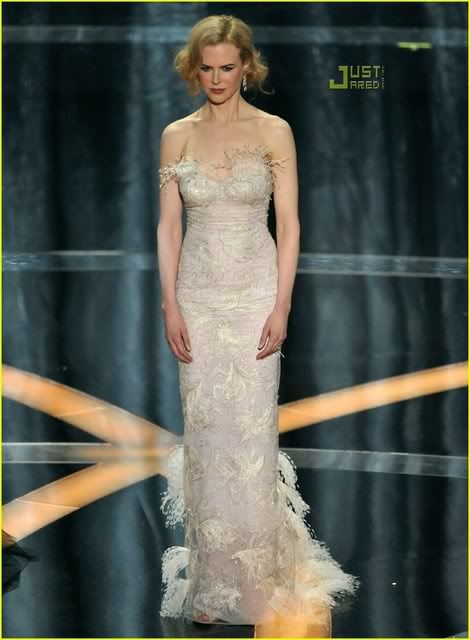 Leslie Mann in Pamella Roldand. I love this dress and I really like Leslie Mann, she's mad funny.



Diane Lane in Dolce & Gabbana. I loved it. It was very her age, yet very sexy, hugged her body perfectly, and it was just simply chic.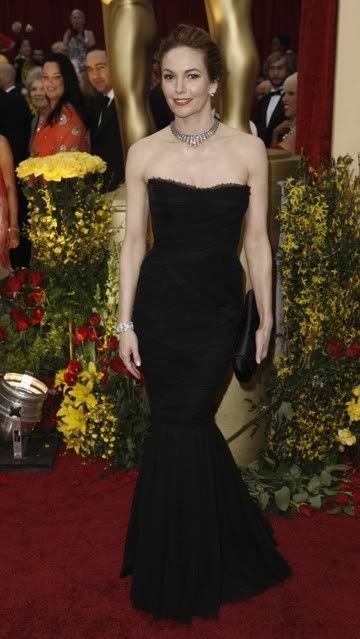 I really loved Amy Adam's Fred Leighton necklace. The colors were stunning, it gave a beautiful floral effect. I like the Carolina Herrera gown a lot also. I know she got some slack about the combination of the two, but i like it. I think the dress was unflattering at certain angels, but it had beautiful boning, and I love the color. Her make-up and hair was a little dull.



Jennifer Anniston in Valentino. She's beautiful, I love her, that's all



Jessica Biel is Prada. Oui. All wrong. I do love the top of this dress. I like that piece over lapping. But it went into this straight, a-line bottom and it didn't work. Plus she wore black, round toe shoes that peeped out and the colors together were awful.



Evan Rachel Wood in Elie Saab. I liked this dress, I loved the top, but the color and her complextion didn't work in the way that it worked for Anne Hathaway. And her hair was awful, very ceremonial, and old.



Viola Davis in Reem Acra. I hear she gave an amazing performance in Doubt. She was nominated after all. But she was not amazing with this dress. The reflection color is gross. She looked happy though. And that's most important.



Angelina Jolie also wore Elie Saab. She's always beautiful, I loved her emerald earrings, and Brad Pitt looked handsome on her side. He wore Tom Ford, who we all love.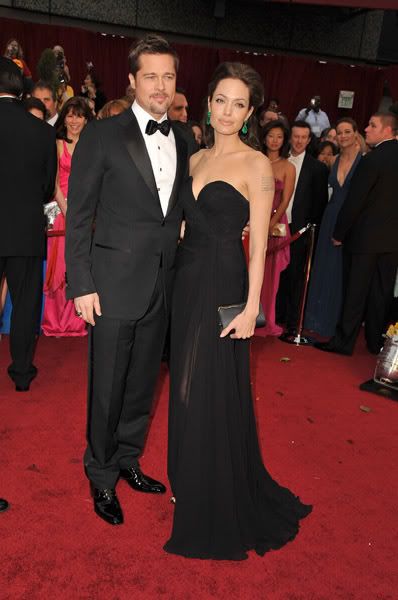 Sean Penn wore all black on black with this Armani suit. He looks smooth, I dig it. And he won Oscar for Actor in a Leading Role. Yay.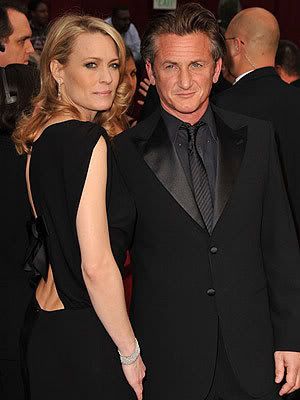 Beyonce had some balls for wearing a House of Dereon dress. The critics ate her up about this. I actually liked the gold detail, but the top of the dress, the shape, the lack of earrings, this pose, all bad.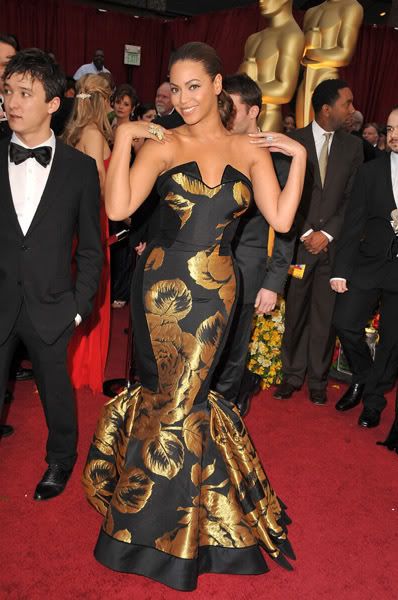 Tilda Swinton wore Lanvin and I actually really liked it. I like Lanvin and I think this two piece was pretty and it fit Tilda's style perfectly.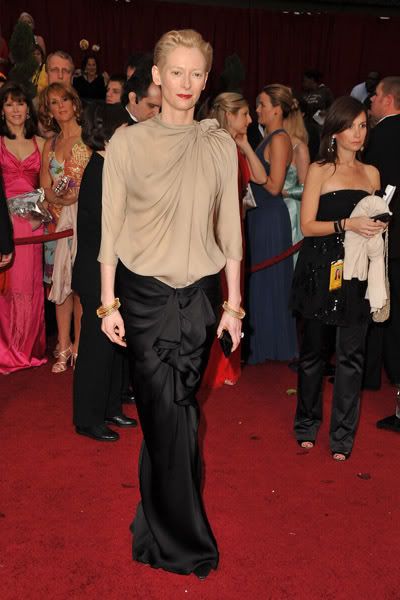 Mickey Rourke wore a Jean Paul Gaultier suit and I really fucking liked it. I thought it was perfect for his whole aura, it's Gaultier so it's a great suit to begin with. I loved the shades, and the pointy, patent-leather shoes were perfect additions.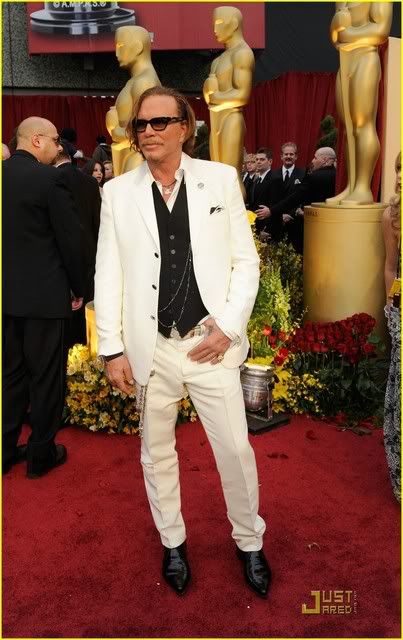 Kate Winslet wore YSL. I love her, she finally won and I think she looked beautiful. But I did not like this dress. She did give a nice old Hollywood vibe & the dress fit nicely, but it wasn't a winner.



I liked John Legend's look. It was crisp and had a vintage vibe. Plus he took a different route wearing a brown Prada suit. I could have done without the pocket square and I didn't like his girl's dress.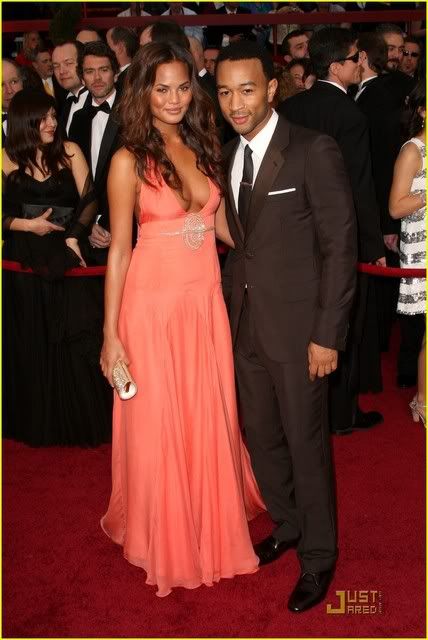 Heidi Klum in Roland Mouret with jewelry she designed, one charm was for a heart disease cause. I loved the jewelry, but I did not like the dress or the red shoes with the red dress, her hair looked awful and all that amazing jewelry with that origami style dress was too much. I love her though.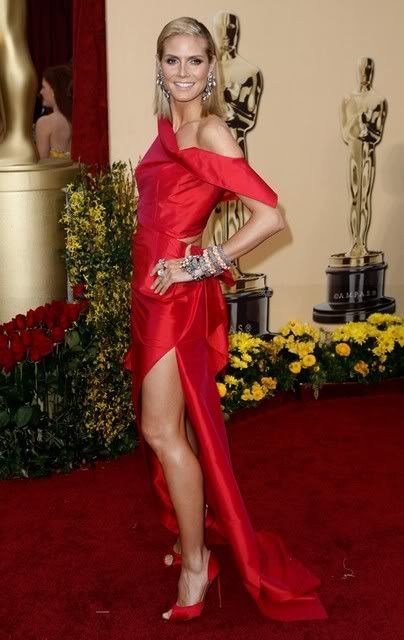 Amanda Seyfried wore this horrible Valentino gown. I think she's a really talented actress but damn honey, get a stylist.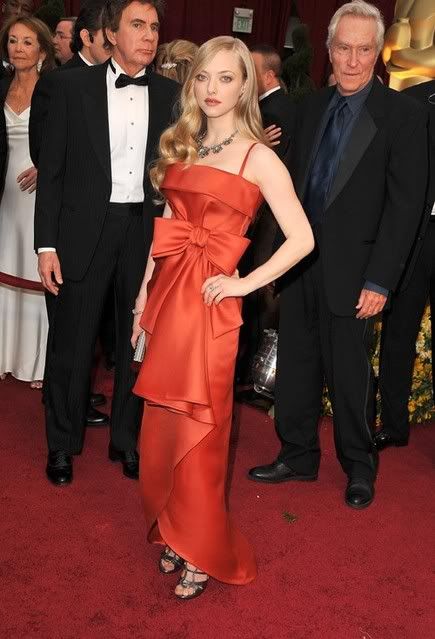 Gwen Stefani wore L.A.M.B. I love her and I love it on her. But on it's own, I'm not crazy about that mob-like top.



Jada Pitkin-Smith wore Roberto Cavalli Resort. I love the 1 shoulder, drapping of the dress, but it looked a little ill-fitted on her.



Zoe Saldana in Dolce & Gabbana. I love the top and there is something off about the bottom, but I kinda like it. I liked that it was pulled in at the waist. It's the top color & cheetah combination that I think threw it off.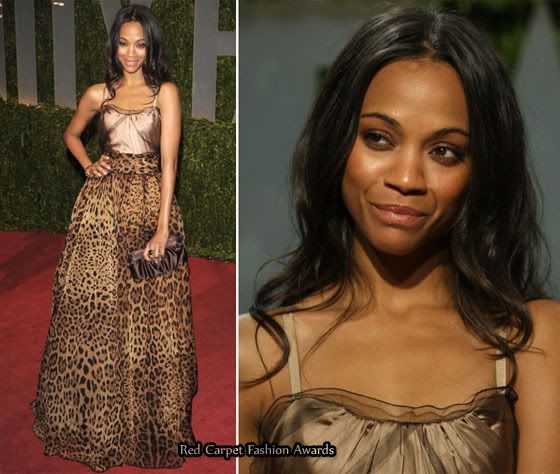 Madonna wore Christian Dior. I hate the necklace but I do love this dress. Her make-up was nice too.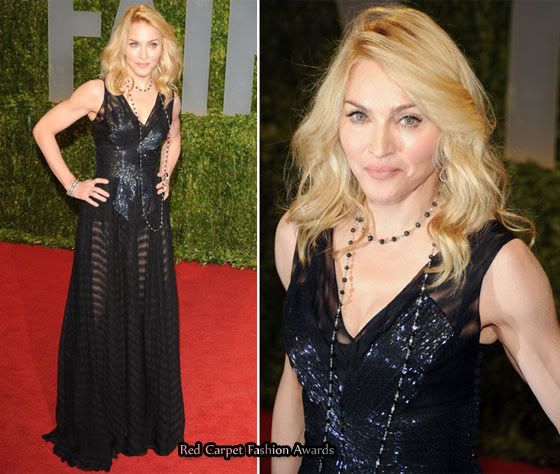 Debra Messing wore Jenny Packham. I loved it. I really liked the earrings and her hair.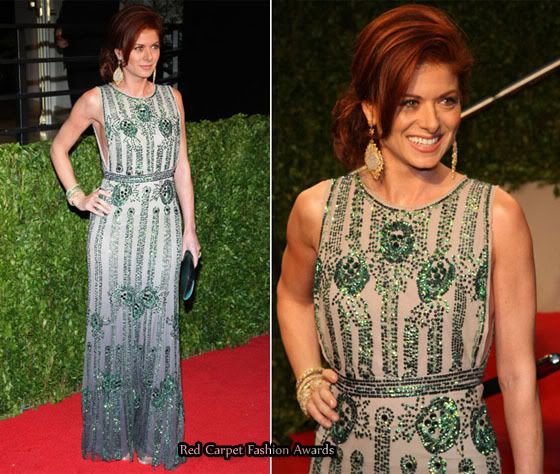 Kate Bosworth in Alexander McQueen Resort. She is always on point. She looked different than most and I love this dress.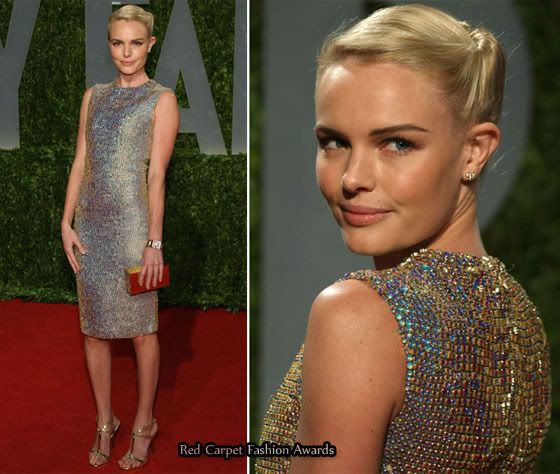 I applaud everyone this year, way more good than bad. Go see the movies nominated if you haven't yet.

*pics via various sites