everyday is Saturday night, but I can't wait wait for Sunday morning
Ello there beauties & handsomes.

Today was a good Sunday

.

My smile looks whoa ass in this pic but whatevs

. I woke up to my babes & we went to buy me shoes. yay! You know our Ferris Bueller editorial,

I got the Steve Madden shoes

I showcased there. They are so pretty & I am so happy. I've been in a blah mood lately & shopping makes me feel better. But I'm broke, (1 reason I been blah) so Rell hooked me up :)
We were runnin' all around Soho & strangely this guy & girl kept ending up in the same places as us, after us. First we were in Supreme's temporary spot & they came in, I noticed her 'cause I liked her kicks. Then they came in both the Steve Madden stores after us..and then we went to Alife & they ended up there too. It was mad weird. But any who then we went to see

the movie Taken

. Good shit, you'll

read my review this Saturday in issue #2

. yay for that! So yea my Sunday was good. My folks & Cha Cha came back from Boston & I got home cooked pork chops, yum. The only bad part of the day was catching my period. I know TMI for you guys but I didn't expect it today, so it's arrival really pissed me off. O well, that's part of being a girl.
Below is

me & Rell

. And

my nephew, Xavier

ran into my solo pick. I love that boy. He is the cutest, smartest, & baddest 2 year old in the world. Excuse my messy room. That's it everyday.

Hope you all had a good Sunday too!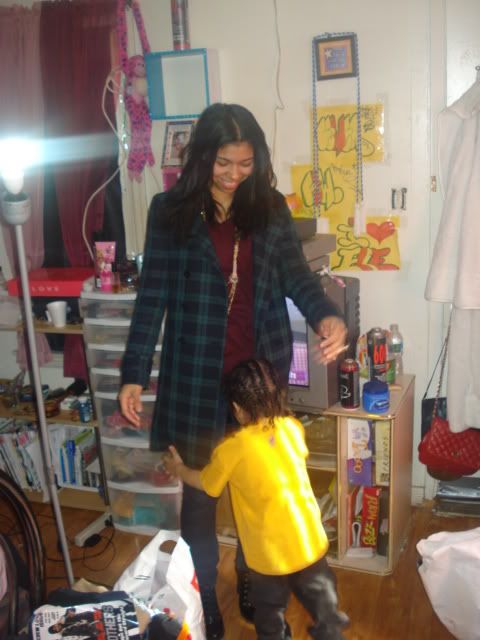 Sweater: Vintage Christian Dior




Jeans: Express




Boots: Lovely People




Coat: Club Monaco




Chain: Club Monaco



*opening quote is K-OS - Sunday Morning.